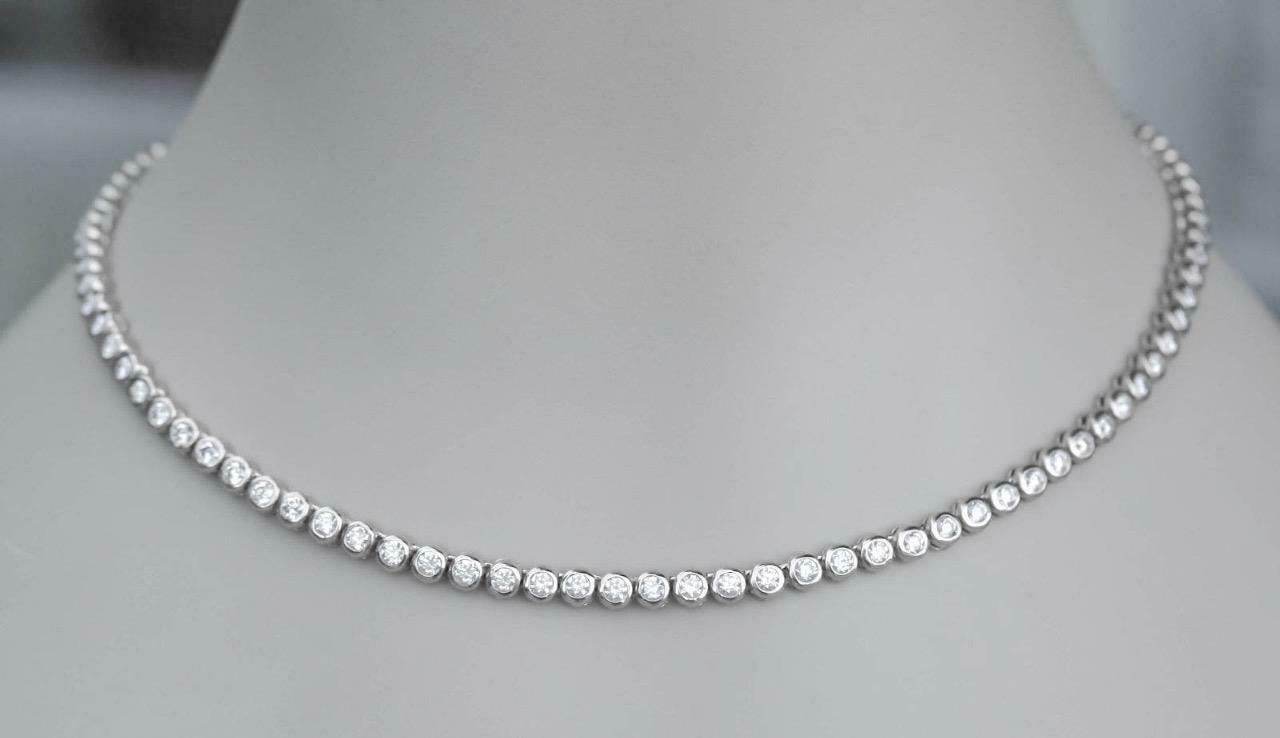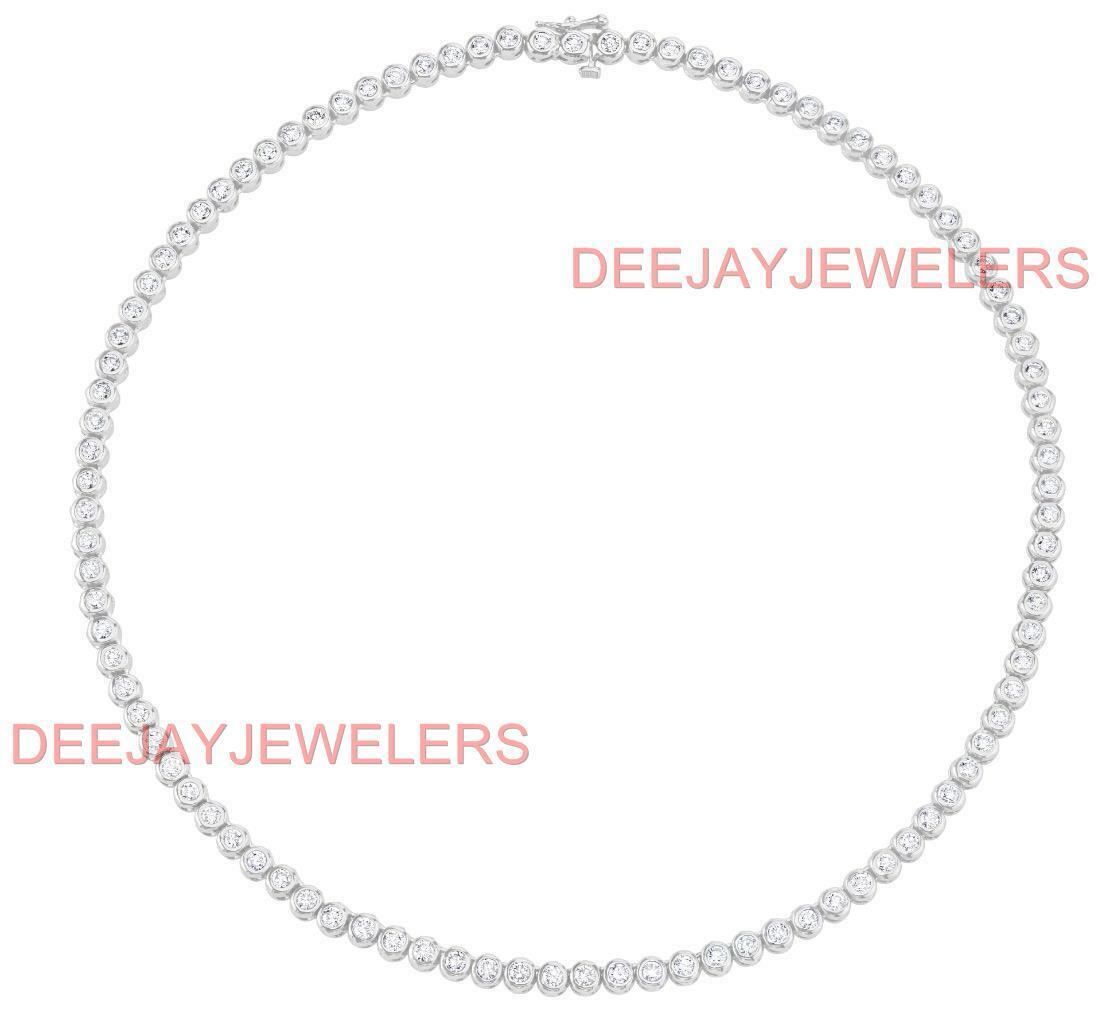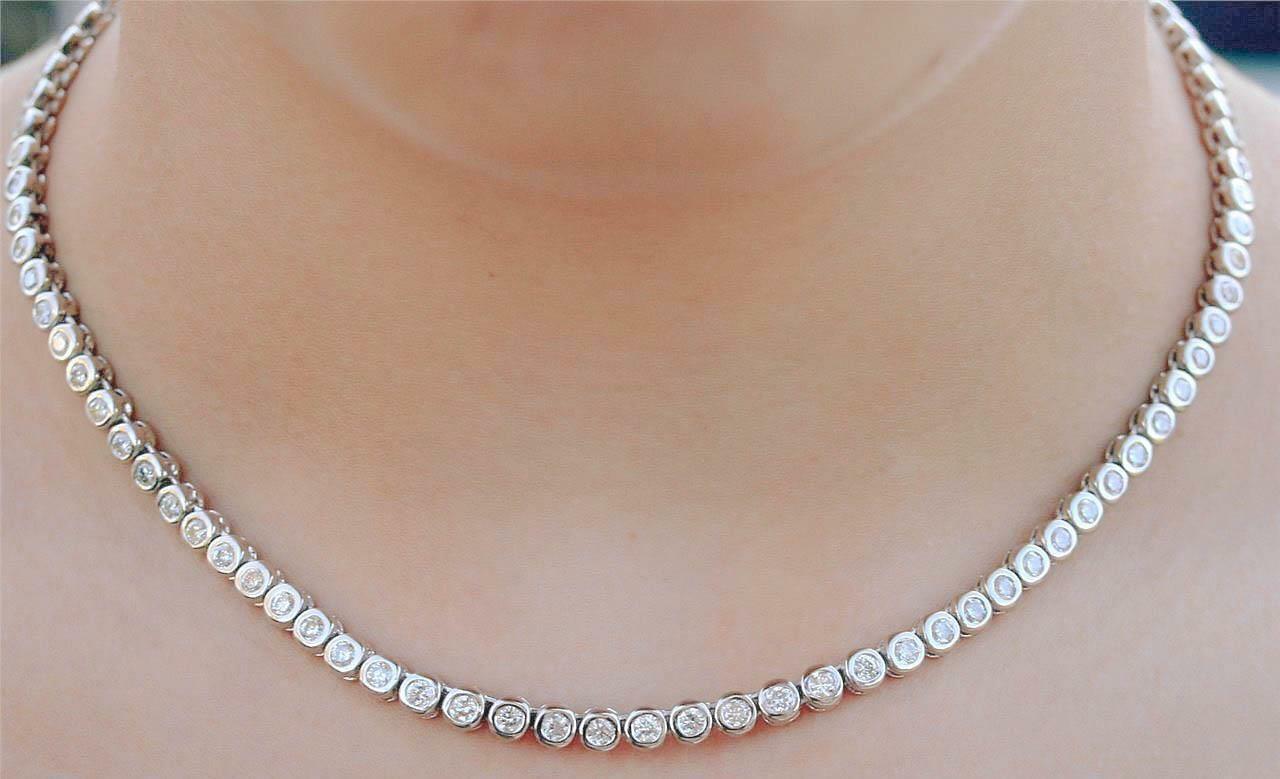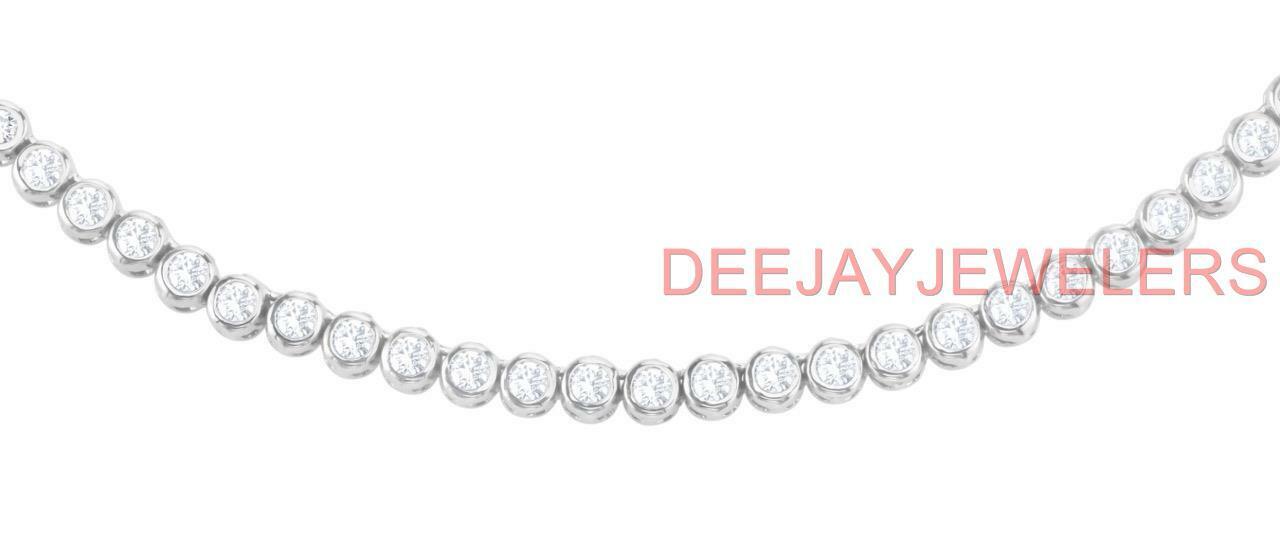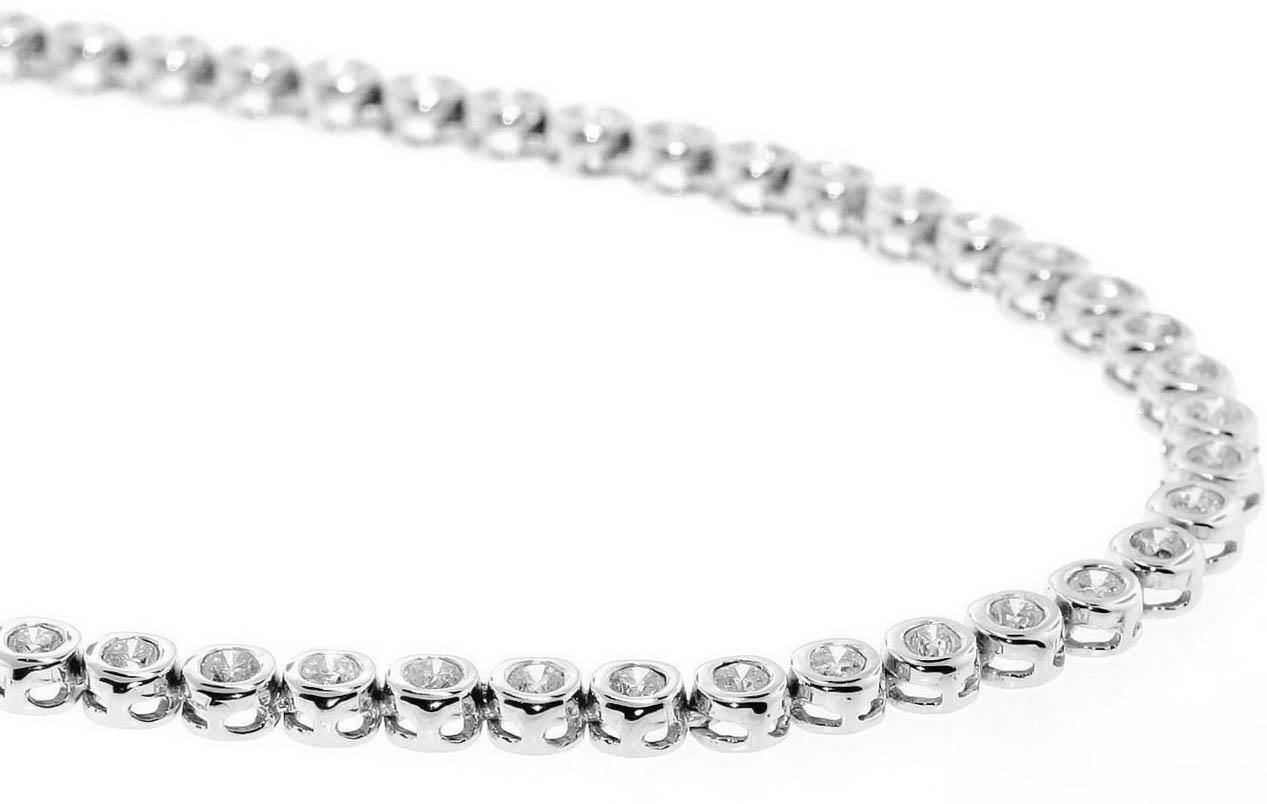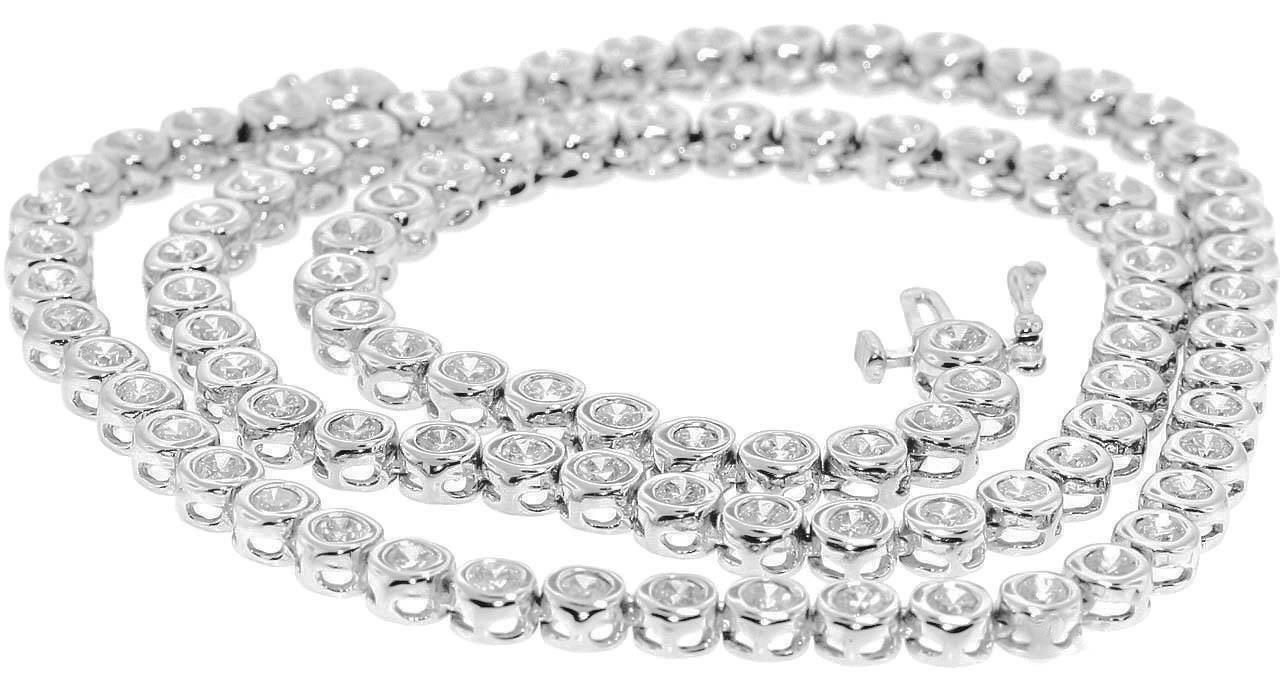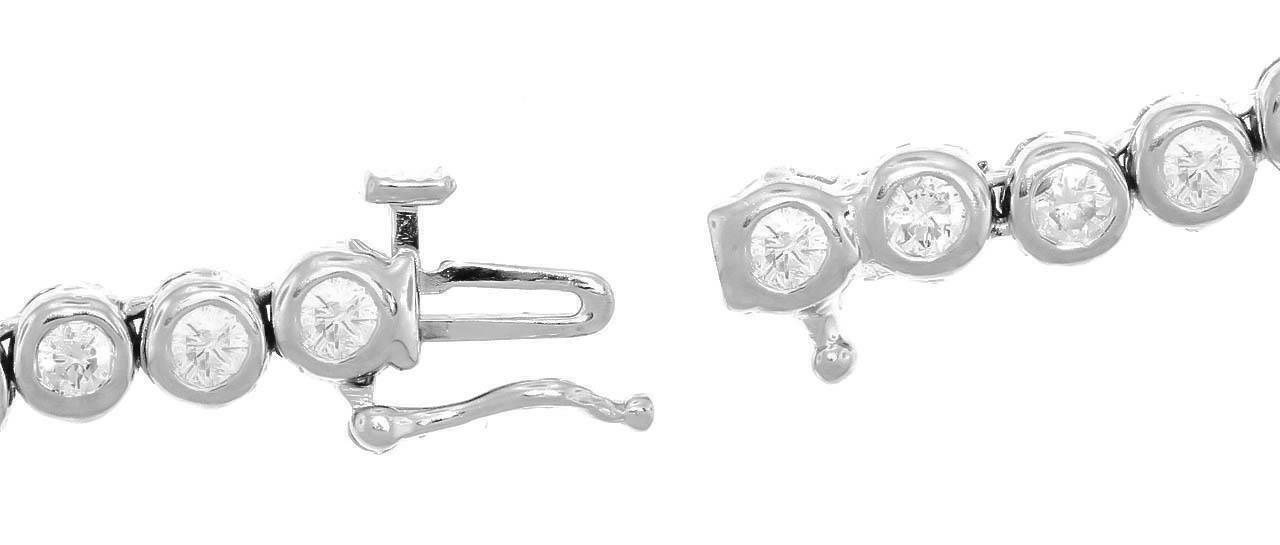 10ct Bezel Diamond Eternity Tennis Necklace 14k White Gold
$ 7,995.00 USD
Regular price
$ 18,995.00 USD
off
Description
Specifications
Return Policy
10 carats of brilliant round cut diamonds sparkle in this bezel set eternity tennis necklace. Handcrafted in a substantial 33 grams of 14k white gold, this glorious necklace sits solidly without rolling or twisting. At 17 inches long, it's the perfect length for casual and formal wear. This heirloom quality piece, in a timeless style, will be treasured for generations to come. Expertly manufactured in Los Angeles.
NBZ-0422
Diamonds:
10.02ct brilliant round cut diamonds, SI1-SI2 clarity H color
Natural, earth-mined diamonds

Metal:
14k white gold full bezel setting, 33 gm

Measurements:
17inch L x 4.5mm W x 3mm H

Closure:
Hidden box clasp with locking safety latch
We accept returns for refund or exchange within 30 days of ship date. Please note that to be eligible for return, items must be in their original, unused purchase condition with merchandise tag and '360 ID Tag' security tape attached, and include all product documentation. No returns accepted after 30 days. 
10ct Bezel Diamond Eternity Tennis Necklace 14k White Gold
$ 7,995.00 USD
Regular price
$ 18,995.00 USD
FAQ
Are your diamonds real?
Yes. DeeJay Jewelers is committed to sourcing and using only 100% natural, earth-mined diamonds. We never use lab-grown, man-mined or created diamonds in any of our products.
Do you have a store or showroom I can visit? Can I pick up my order?
No, we're not open to the public, and all orders are shipped directly from our facility. To keep our prices low, we don't have the overhead expense of a showroom or storefront.
Why should I buy from Deejay Jewelers?
Reputation. Over 3700 honest positive eBay reviews speak for themself. We bring a personal touch to the impersonal world of online shopping, and we're not happy until you're happy. We go the extra mile to provide quality products, competitive pricing, and outstanding customer service. 
Do you offer personalization, custom orders, or engraving?
Custom sizing: We want you to be sure you love your new jewelry before we make changes to our handmade items. We'll first ship the stock merchandise to you in the advertised size, and after you approve the quality and workmanship, ship it back for personalized modification. We provide shipping labels for this service, and our factory has a quick turnaround. For further information, please contact us
Currently, we don't accept custom orders or offer engraving service.
Why are your prices lower than other jewelers?
We're a Direct-to-Consumer (DTC) business and you're buying directly from the factory where most of our jewelry is manufactured. We don't follow the traditional retail sales chain of distributors, wholesalers, and retailers, which increases prices for consumers. We eliminate the profit-making middlemen to offer you an outstanding value on factory direct, heirloom quality diamond jewelry. We price our merchandise solely based on the market cost of gold and diamonds at the time of manufacturing, not retail percentage markups. Prices may be cheap, but our jewelry certainly is not.
What payment methods do you accept?
All major credit and bank cards are accepted and processed through PayPal.
Can I change or cancel my order?
Just *contact us* and we'll do the best we can to accommodate your request.
What is your Return Policy?
Our outstanding service doesn't end with delivery. Items may be returned or exchanged within 30 days from when they were shipped, no questions asked, and at no cost to you. Contact us for RMA. To be eligible for return, items must be in their original, unused purchase condition with merchandise tag and '360 ID Tag' security tape attached, and including gift box(es) and all documentation. See Complete Return Policy
Ethical Sourcing
Conflict-Free Diamonds
DeeJay Jewelers, along with the global diamond industry, has a zero-tolerance policy toward conflict diamonds. We support the worldwide measures implemented to prevent the trade of illegal diamonds, including the Kimberley process, which tracks diamonds from mine to market. We source and purchase only conflict-free diamonds which, via the Kimberly process, are confirmed to be transparently mined and do not support wars, uncivil organizations, or human rights abuse.
Ethical Metals
DeeJay Jewelers is committed to using ethically sourced and responsibly mined gold and metals. We strive to ensure that our gold and metal suppliers meet the highest human rights, social, and environmental benchmarks.
Shipping
Fast Shipping
We deliver via complimentary insured UPS 2nd Day Air, with an adult signature required for delivery. Orders are processed and shipped within 1-2 business days. Overnight shipping is an additional option at checkout. Currently, we do not ship internationally. UPS requires a physical street address for delivery no shipping to PO Box addresses.
Order Tracking
Easily track your UPS shipment to be available to sign for it.
About us
'Take care of the customer and the business will take care of itself'
Since 1984
Being a jeweler is unlike most other professions. It's not simply about making a living by selling pieces of jewelry, like a baker selling loaves of bread. It's about making connections, educating, and listening to clients. But more importantly, it's all about trust. Trust is never given away lightly. It must be earned, and we work hard to earn it.
Offering high quality diamond jewelry at a fair price is a good start. But it takes more to really earn the trust of thousands of clients, and even more to keep them coming back year after year. We always put our customers first, with outstanding service, utmost honesty, and mutual respect. We never aim to just make a sale; we strive to make customers for life.
Our Promise
'Always have integrity'
Learned from my father, integrity is a core principle at DeeJay Jewelers. It encompasses being authentic, honest, respectful, dependable, appreciative, and kind. We promise to be all this and more.